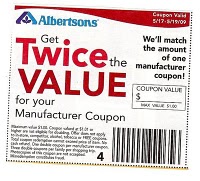 Become Shoppertunistic shows you the way to rock out Albertsons' Twice the Value Coupons. For more tips and tricks on how to stretch your budget and live the glamorous life, click over to www.glammore.com!
Check out the video:
What you didn't see during the filming of this video was that my twin boys were throwing cartons of eggs into my cart! YIKES! Gladly, none of the eggs broke. This is further example that if I can shop strategically...ANYONE can!
Some of my favorite blogs for Albertsons shopping scenarios are: